Quad Output RS232 LIRC Kit
The Quad Output RS232 Kit works win your PC just like the single and dual output devices, but gives you up to 4 outputs. The kit works great LIRC and works great with numerous PVR projects including MythTV and Freevo
Includes:

› Female DB9 Connector
› IR Amplifier
› Power Supply
› 4 Ultra Compact IR Emitters

Advanced Features:

› Protocol Independent (36 KHz, 56 KHz, etc)
› IR Transparent (your regular remote will still work)
› Feedback LED to show you when your PC is transmitting
| | |
| --- | --- |
| Installation Guides: | |
Quad IR RS232 Kit (Pictured)
$65
RS232 Cable Only to Bare Ends
$10
RS232 Cable Only to 1/8" Mono Plug
$10
Upgrade to 8 Outputs using
dual light up emitters
$18

Buy now buttons on this page for US First class Mail with delivery confirmation only ($3.95/order)
contact me for international air mail, global priority, and FedEx rates
Quad Output IR Repeater Kit
The Quad Output IR Repeater is similiar to the kit pictured above, but instead of a connection to your PC it has an in wall IR Receiver. Everything picked up by the receiver is then sent to the 4 IR emitters that you can stick on the front of your components.
Kit Includes:

› In Wall IR Receiver
› IR Amplifier
› Power Supply
› 4 Ultra Compact IR Emitters

Advanced Features:

› Protocol Independent (36 KHz, 56 KHz, etc)
› IR Transparent (your regular remote will still work)
› Feedback LED on both the receiver and IR Amp

Perfect for installations with hidden components!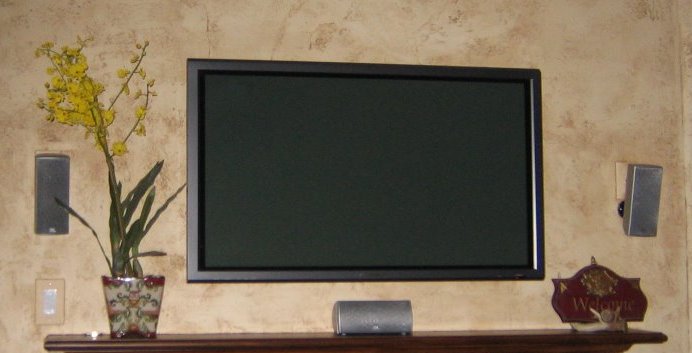 | | | |
| --- | --- | --- |
| Quad IR Repeater Kit with In Wall Receiver | $95 | |
| Extra In Wall IR Receiver | $46 | |
| Extra Quad Output Amp Block | $30 | |

Buy now buttons on this page for US First class Mail with delivery confirmation only ($3.95/order)
contact me for international air mail, global priority, and FedEx rates
Even more products and unique home theater control ideas can be found on the special order page